1. Fresh, new spaces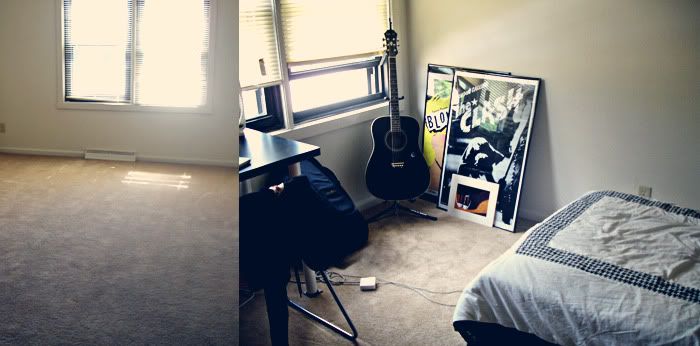 My room in the apartment I had senior year of college. (Those posters never got hung up!) After moving back home after school, I absolutely cannot wait for when the time comes & a new place to fully decorate and make my own. Also, totally missing my low to the ground Ikea bed. Love. One of my brother's roommates is currently using it!
2. Cooking nights with friends


This was one of my favorite things during college. Great friends and I used to get together and cook a big meal, multiple times a week. After awhile it became habit…meeting up after class and driving to the grocery store to pick up our supplies for dinner. Cooking fests are definitely missed!
3. My backyard halfpipe

I have a confession…When I was a teen and a pre-teen I used to love skateboarding. I daydreamed about one day skating in the X-games. I wasn't very good; I could only do a couple of tricks..but I liked skating around town. I was so into it at the time that I asked my carpenter dad if we could build a skate ramp. We did, and set it up behind the garage. How lucky was I?! The halfpipe had a pretty steep drop in so I was always afraid to go down it! Needless to say, as I've grown up my parents tore the ramp down. I forgot that recently…I went to go rollerskate on it & remembered it was gone!
4. Funky colored hair

Sometimes I miss doing coloring experiments on my hair. Also, I don't miss it…because my hair actually looks nice now :P Changing my hair color always makes me happy, I love change & mixing up the way I look. But i'm in the professional world now, so I can't have bright pink hair or purple bangs. BUT for the last couple months i've been dyeing some of my hair underneath dark purple. Mission accomplished, and you can only see it sometimes!
5. Playing shows

Being on stage is one of my favorite things. Also is playing music. It's so great to feel totally in your element and get a completely awesome rush!
6. Walking/biking everywhere

It wasn't until late in my senior year of high school when I got my license, a good amount after most of my friends. I didn't want to rush into driving! Sometimes, I really miss the simplicity of walking and taking in your surroundings. That seems to be forgotten with the conveniency of cars. Even though driving is necessary to get where I need to be, I love biking to the store when I can. I should live in a city, huh?
♥ Anything you've been missing lately?